Okay, so I know I haven't done any original projects for a little bit… please bear with me just a little while longer. I am in somewhat of a holding pattern as I prep for a cross state move to Arizona. I do have a couple smaller projects that I will finish up soon, but as soon as we move there I will have a plethera of new, original and fun ideas for you!  In the meantime, I will bring you fun ideas and blogs I have found in my efforts to bring you fun new design trends.
So I found a fun new blog yesterday that features great "Before and After" projects.  I will be featuring several of my favorites.
After throwing up a little in my mouth and having flashbacks to my childhood (sorry mom) upon seeing this before picture… I was pleasantly surprised the after!
This project is straight up BRILLIANT! How many houses and thrift stores have the old built in TV cabinets of yester years? I have to admit, as creative as I am, I would have kept walking right on by this, but after seeing this I might seek one out. The after is amazing! Love it.
Here are a series of great chair makeovers. Bold and fun.
A design trend I am totally digging right now, is accent chairs with caning that has been painted out. Classy and a little British Colonial touch.
Also love painted out wood trim mixed with funky fabric.
I would LOVE, LOVE, LOVE to redo a sofa with wood trim for my living room, maybe someday, for now I have way to many projects ahead of it in line. But here are some fun inspiration pieces.
Nasty stained ottoman before… and funy and bold ottoman after is awesome.
Gotta love these great kitchen makeovers…  you all know I love me a beautiful white kitchen. Here are some great examples of what paint can do.
Don't be afraid to take on some scarier projects, like  this dresser.
This type of hutch is a pretty easy find. Another great transformation.
I would love to find something like this for my closet, because between my husband and I we have a lot of shoes! It would be great for this.
So check out the Better After Blog for great design inspirations.
Here's the link: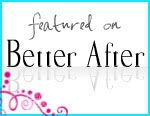 Enjoy!
-NataLee Callahan
Making the house you have, the home you want!